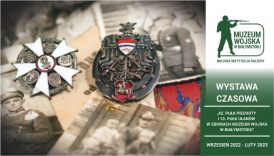 The 42nd Infantry Regiment named after General Jan Henryk Dąbrowski and the 10th Lithuanian Lancers Regiment are the patrons of the year 2022 in Białystok. One hundred years ago, both units were located in the city. They became a permanent part of the landscape of pre-war Bialystok.
This year's celebrations have become a pretext for showing the rich museum collection dedicated to both of these military units to a wider audience. For more than fifty years, the Army Museum in Bialystok has been collecting documents, photographs and artefacts related to the activities of the Bialystok garrison. Presented from September to December 2022, the exhibition entitled '42nd Infantry Regiment and 10th Lancers Regiment in the Collections of the Army Museum in Bialystok' exemplifies the memory of past heroes.
We would like to encourage you to join us in building the collection of the 42nd Infantry Regiment and the 10th Lancer Regiment in Bialystok. If you have in your home archives documents, photographs, or memorabilia related to the military history of our city, we kindly ask you to share them with the Museum. Here they will find their proper and safe place. Do not let bygone realities disappear forever …
The opening will be attended by re-enactors of the 10th Lithuanian Lancers Regiment and re-enactors of the 42nd Infantry Regiment.
You can see the exhibition from Tuesday to Sunday, from 9:30 a.m. to 5 p.m. in the Army Museum at 7 Kilińskiego Street.